New Arkansas Dads: 'Love Conquers All'
Stephen & Eddie Inman-Crawley • Hot Springs, AR
This story was published in September 2014, following a decision from a judge in Arkansas striking down the state's marriage ban. Stephen and Eddie were one of the first same-sex couples to wed in Arkansas in May 2014.
October 15 signals a significant landmark for Stephen and Eddie Inman-Crawley: They'll be celebrating the first birthday of their adorable daughter, Rhetta Joane Inman-Crawley, whose namesakes are Stephen's mother Loretta and Eddie's mother Karen Joan.
It's been an exciting year for the family; after welcoming Rhetta into their lives last year, they have watched as momentum for the freedom to marry moved more quickly than ever, and on May 9 of this year, they rejoiced when Circuit Judge Chris Piazza struck down Arkansas' Amendment 83, which denies the freedom to marry to same-sex couples.
They were one of the first same-sex couples to marry in Little Rock following the ruling, saying "I do" and receiving a marriage license from the state of Arkansas. It was an amazing moment – truly an unbelievable experience, one that crystallized the many years they have shared together.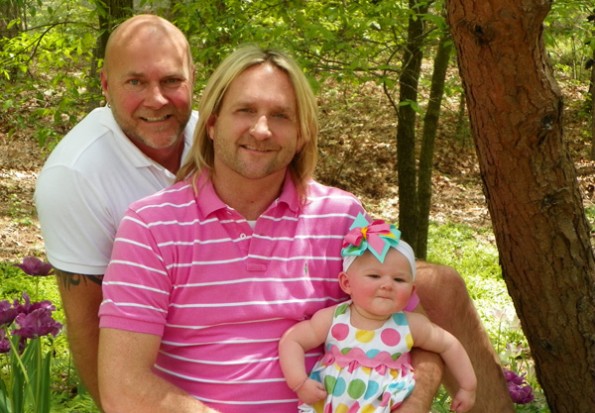 Stephen and Eddie have been friends for more than 20 years, even spending several years together as roommates in the early 1990s. But it wasn't until they reconnected in 2011 that they realized their feelings ran deeper and their romance blossomed.
In May 2012, in front of more than 300 family members and friends, the men declared their commitment to each other at the Anthony Chapel on the grounds of the Garvan Woodland Gardens in Hot Springs, AR in a ceremony that Stephen called "magical."
Now, they own a business together and are hard at working raising their daughter and building their family in Hot Springs.
But even though they have a marriage license from Arkansas - even though they are legally married – they are continually disrespected in their home state, which has said it will not honor the marriage licenses as the case, Wright v. Smith, works its way to the Arkansas Supreme Court.
We applaud all of the plaintiffs and the legal team for their heroic efforts. What an inspiration and testament to love and devotion – Love truly does conquer all.

Stephen Inman-Crawley, Hot Springs, AR
Because of this, Stephen and Eddie are concerned about their family being respected in Arkansas; only Eddie is listed on Rhetta's birth certificate, although both fathers have raised her for her entire life. Earlier this summer, they attempted to modify her birth certificate so that Stephen could be added as a parent, but the marriage ruling had already been placed on hold, and Stephen and Eddie were turned away.
That's why it's so important to Stephen and Eddie that the Arkansas Supreme Court stand on the right side of history this year and affirm that same-sex couples and all families in Arkansas should have the freedom to marry.
Despite the challenges of living in a state that within one month granted them respect and then sharply revoked it, the men are optimistic, and they are thankful that the Wright v. Smith plaintiffs, many of whom are their friends, took the case to court.
"We applaud all of the plaintiffs and the legal team for their heroic efforts," Stephen said. "What an inspiration and testament to love and devotion – Love truly does conquer all."